MLR Forestal delivers school supplies and teaching materials for the fourth consecutive year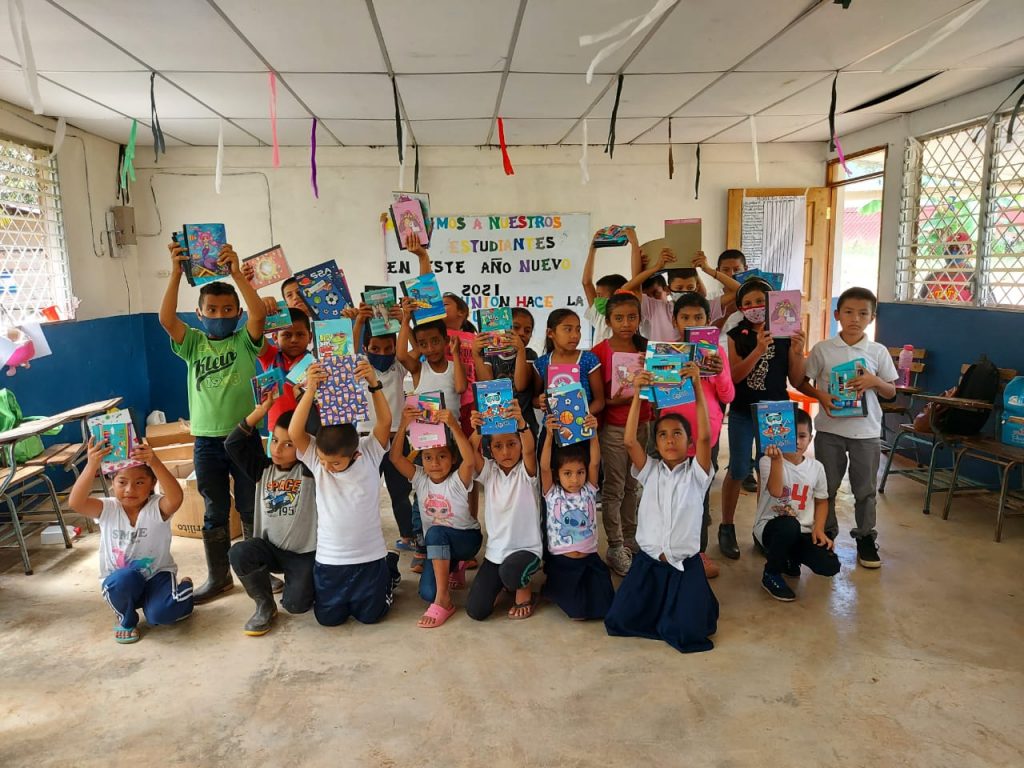 Since 2018, when the school year begins, the children already know that they will receive a special visit that they anxiously await. On a designated day, during class hours, the MLR Forestal vans loaded with school supplies for them and teaching materials for their teachers will arrive at their school. And they will be happy to offer their help to move the boxes from the side of the road to the classroom.
"The moment they receive us is the most beautiful. We arrive and the first thing we see is a group of children with their happy faces waiting for me to get out of the truck. When they tell us that they are going to help us unload the boxes, we give them one that they can lift ", says Mabel Lazo, head of Social Management at MLR.
470 children and 33 teachers benefited in 2021
Since 2018, each year more schools in communities neighboring the plantations have benefited from these donations. That year the company van arrived at a San Francisco de Asís school, in the neighboring community of San Miguel # 1. In 2019, La Primavera of the Bethel # 1 community and Nueva Esperanza de Bethel # 2 were integrated.
In 2020, the Flor de Pino school from Empalme La Bu was added. And in 2021, six schools were benefited because to those mentioned above, the Primero de Junio School of Unión La Bu and Danlí Arriba were added, which despite not being in an area of direct intervention of MLR, the company responded to the request of the community for the delivery of school supplies.
In total, in 2021, 470 boys and girls and 33 teachers from these educational centers that offer preschool and primary school benefited.
Parents and teachers, are active part of the process
Lazo points out that the delivery of these materials would not be possible without the good relationship and excellent communication that is maintained with teachers and school directors, who are also an active part of the process.
"They (the teachers) give us time on class days to prevent the children from coming back in the afternoon because some have to walk for twenty minutes, half an hour, an hour or some go on horseback. In addition, they summon parents who want to witness the delivery and quite a few arrive. Then the deliveries become emotional, you see an enthusiastic mother taking a picture of the child who is receiving his supplies", recalls the person in charge of Social Management.
It is an important contribution in the midst of many needs
MLR-supported schools have many needs. Some children arrive in slippers, others in rubber boots, not all of them have uniforms. This is because, as expressed by a community leader last year at Bethel # 1 school, there are parents who find it difficult to send their children to study because they don´t have to enlist just one, but two or three .
Student kits include notebooks, scissors, erasers, sharpeners, pencils, colored pencils, pens, glue, and crayons. For their part, the teaching materials for teachers are cardboard, flipcharts, reams of letter-size bond paper, folders, acrylic markers, scissors, erasers for a whiteboard, pencils and pens, notebooks and watercolors. In addition, alphabet books are provided for preschool teachers.
Contribution to the prevention of school dropout
Every year when Mabel Lazo and her team go to a school, amid the joy and surprise of the children to receive their new and colorful materials, the question arises as to whether the company will continue to support next year. And the answer is yes.
"We trust that with our contribution these children will remain in the formal education system because we seek to prevent school dropout. We also train the women nursery workers who are community members of Empalme La Bu on the subject, that is, it is not only the delivery of supplies, but also follow-up with the workers who are mothers and fathers in these communities to send their children to class", she points out.
On the other hand, education is fairly egalitarian in the area, since enrollment at the Flor de Pino school is 165 children, of which 81 are girls. In the San Francisco de Asís center there are 33 boys and 14 girls; in Nueva Esperanza there are 96 students, 48 boys and 48 girls. In La Primavera there are 54 and 32 are girls.
Company Supports Hurricane Damaged School Repair
After the hit of hurricanes Eta and Iota in November last year, the Nueva Esperanza school in the Bethel 2 community had damage to its infrastructure, so apart from the materials, the company donated wood so that the affected part could be repaired.