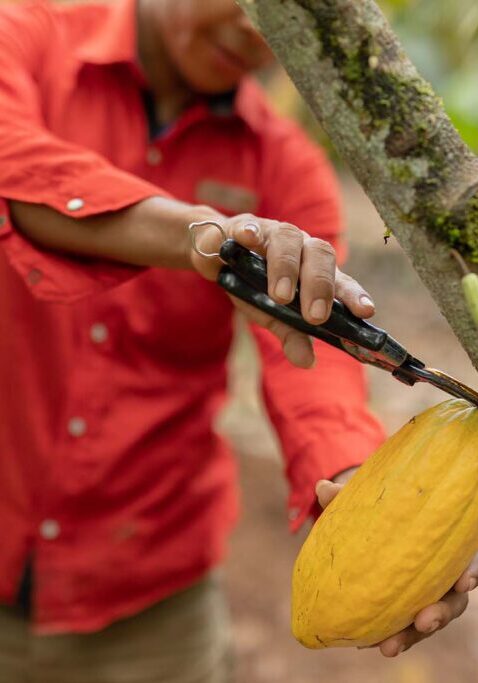 Our cocoa is fine aroma, of the Trinitarian varieties ICS 95, EET 95, UF 221, UF 61 and UF 667.
We currently have more than 1,245 ha. of cocoa under the agroforestry model of asocio, which combines the plantation of teak with cocoa.
We have developed a traceable and sustainable agroforestry plantation.
Our cocoa plantations have been Rainforest Alliance certified since 2017, which guarantees the sustainable and integral management of production in all its stages. In 2022 we received the Sustainable Agriculture standard from the Rainforest Alliance.
Since 2022 we have the international certification VCS (Verified Carbon Standard) of Verra, a voluntary program that has a rigorous evaluation process that guarantees that the steps that the company takes in the face of this effort really have a positive effect.
Future planting projections will be maintained with this same agroforestry model.
In 2024 we will produce 180 tons of dry cocoa, with a view to producing about 2,200 tons in 2030.
Our cocoa is fermented in wooden boxes and dried to perfection in solar tunnels.
Then subjected to physical and organoleptic evaluation in our laboratory to ensure consistency to our customers.
The result is a fruit with flavorful notes of nuts, sweets, spices and citrus
The plantation produces cocoa throughout the year, but has two production peaks.
The harvest periods of the year are: first peak: May, June, July; Second peak: October, November, December.