MLR Forestal, a company that listens to its neighbors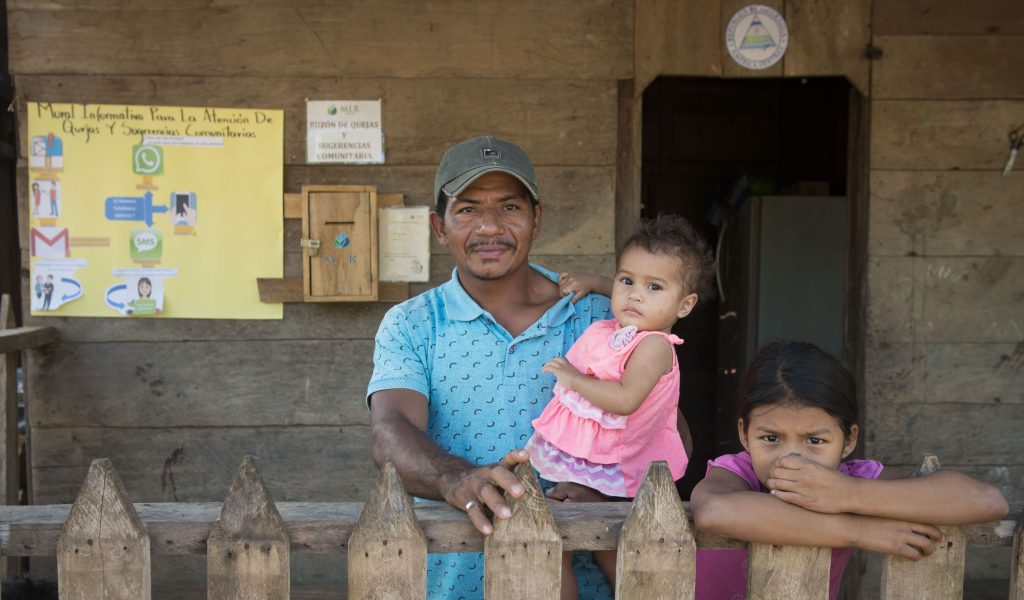 The vision of the company is to create harmony with the communities, which is why it maintains an open channel of communication through a delegate chosen by the community
For MLR Forestal it is vital to establish relationships with the communities and farms that adjoin its plantations. In fact, in the words of Mabel Lazo, the company's head of social management, its vision is to "create harmony" with them.
"MLR has made a difference with many existing private companies in the municipality of Siuna and through the social management area, it has strengthened harmonious relationships with neighboring communities and has managed to sign mutual collaboration agreements with them," says Lazo.
This contact began through a social-based study that MLR conducted in November 2019. This study included a population census in neighboring communities: Unión La Bu, Bethel # 2, San Miguel # 1 and Empalme La Bu; also in farms near the plantations, among them Las Delicias, Mutiguás and Tadazna. This made it possible to strengthen the relationship with all of them, they were assisted with some donations, including school supplies, meetings were coordinated, training was given, and their complaints and suggestions were addressed.
A company open to complaints and suggestions
Francisco Acuña Olivas is a resident of the town of Bethel # 2. A year ago, in a community assembly held at his local school, he was chosen to carry out a new task: to be the community delegate in his area, from the MLR Forestal complaints and suggestions box.
"This procedure arises from the complaints system that exists in the company for employees. Based on our presence in neighboring communities, it was considered very important to take into account the disagreements of the neighbors and that is where the process began during which community assemblies were held where the residents themselves elected a community delegate for complaints ", explains Mabel Lazo.
After the community itself chooses its delegate or delegate, MLR places an informational wall and a mailbox in the outside area of the delegate's house so that the other residents can come to communicate their complaints or, to write them and enter them in the mailbox . These can be signed or anonymous. In the event that the delegate receives a complaint or verbal suggestion, they must write it down in a minute book previously provided by the company.
Lazo is also the complaints prosecutor, that is, who carries out the procedures before the corresponding areas. She explains that "to continue the process and provide a solution", the delegate calls her or sends the complaint; then she sends it to the sustainable development manager and he takes care, via email or depending on the seriousness of the matter, to forward it to the corresponding areas. When you have a resolution, it is communicated to the delegate. Then, at the delegate's home, the information board shows what the resolution actions for the complaints were.
Four communities and four communication channels
Acuña works in mining and is the father of four girls; He says that since the mailbox was installed "people come and ask, there were only two who sent letters, but there have been no complaints of any kind, as long as they (MLR staff) open it is empty, but it has worked because people ask what is it for and I explain to them that here they can write what they think, what they feel ".
The opening of the mailboxes located in the communities Bethel # 2, Unión La Bu, Empalme La Bu and San Miguel # 1, is a daily practice that takes place every fifteen days, whether or not there are complaints or suggestions reported.
"The opening is carried out with a record, the delegate or a community member designated by him must always be there, someone else from the company and I as a complaints prosecutor, but we are never going to open it alone because what we seek is to create trust in people ", Lazo details.
This process is the same in the four communities in which gender equality prevailed, as two delegates and two delegates were elected. They are also in charge of informing their neighbors that there are other channels through which they can also communicate with MLR, these are messages by WhatsApp, phone calls and emails.
Permanent disclosure
The complaints attorney says few complaints are received and when some do arise they are about fence repairs. These are channeled to the forest area and in addition to repairing them, they are helped with material such as staples, wires and posts.
"Sometimes people thank us and that is why the disclosure of the complaints process is permanent, as is the follow-up; because there are people who come to the delegate and ask what it is, then we train them in the procedure," he says. Ribbon.
Regarding this, Acuña, who is also president of the school board of the local school, says he feels grateful because although he has not worked in the company, they have given him training "to get to know it better and explain everything well."
Delivery of school supplies
MLR Forestal's relationship with neighboring communities is not limited to the complaints box. Since 2018, the schools in these communities have received donations of school supplies for both preschool and primary students and teachers .
With these donations, at the beginning of the 2021 school year, a total of 470 boys and girls and 33 teachers from the San Francisco de Asís schools, from the neighboring community San Miguel # 1, La Primavera de Bethel # 1, Nueva Esperanza benefited. of Bethel # 2, Flor de Pino of Empalme La Bu, June 1 of Unión La Bu and the educational center of Danlí Arriba that, despite not being located within the direct intervention area of MLR, was benefited with the initiative in response to a community request.