The militiawoman from Waswalito and MLR Forestal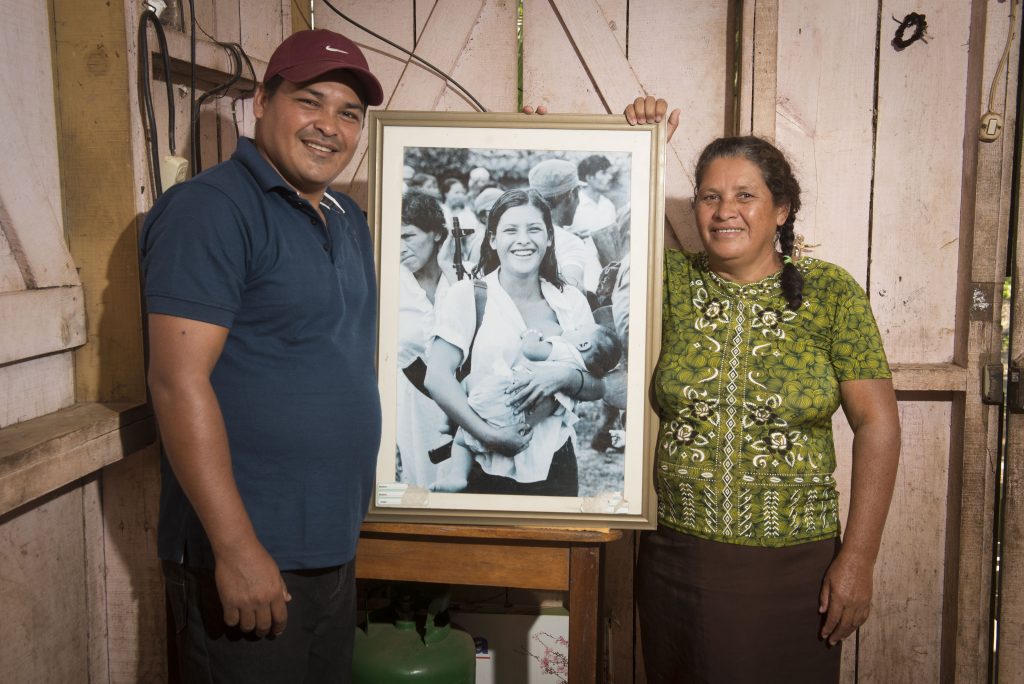 An image always tells a story and, on some occasions, it becomes part of history. This happened with the photograph known as La miliciana de Waswalito, captured by photojournalist Orlando Valenzuela in 1984. In that portrait, which in those years became a symbol of the Sandinista Popular Revolution on a global level, a smiling young woman with long hair breastfeeds her baby while carrying a rifle on her shoulder. But … Who was that girl and what is her relationship with MLR Forestal?
Blanca López Hernández is sitting in the courtyard of her house in the rural community of Waspado, Siuna. He talks animatedly and suddenly has a painting brought to the wooden house. Her grandchildren appear with the photo of "the militiawoman" and place it next to the chair where she is sitting. She smiles. It is the same smile of the girl in the image. Thirty-six years later that young mother is a mature woman and her long hair now has some gray, but her smile remains intact.
A day of rain and recognition
The militiawoman from Waswalito, who is actually called Blanca López Hernández, says that the day they took that photo it was raining and that is why her hair looks wet. She was 19 years old, she was a leader of the Sandinista Youth in the north of the country and she went to the El Naranjo community, located between Waslala and Siuna, to inaugurate a cooperative.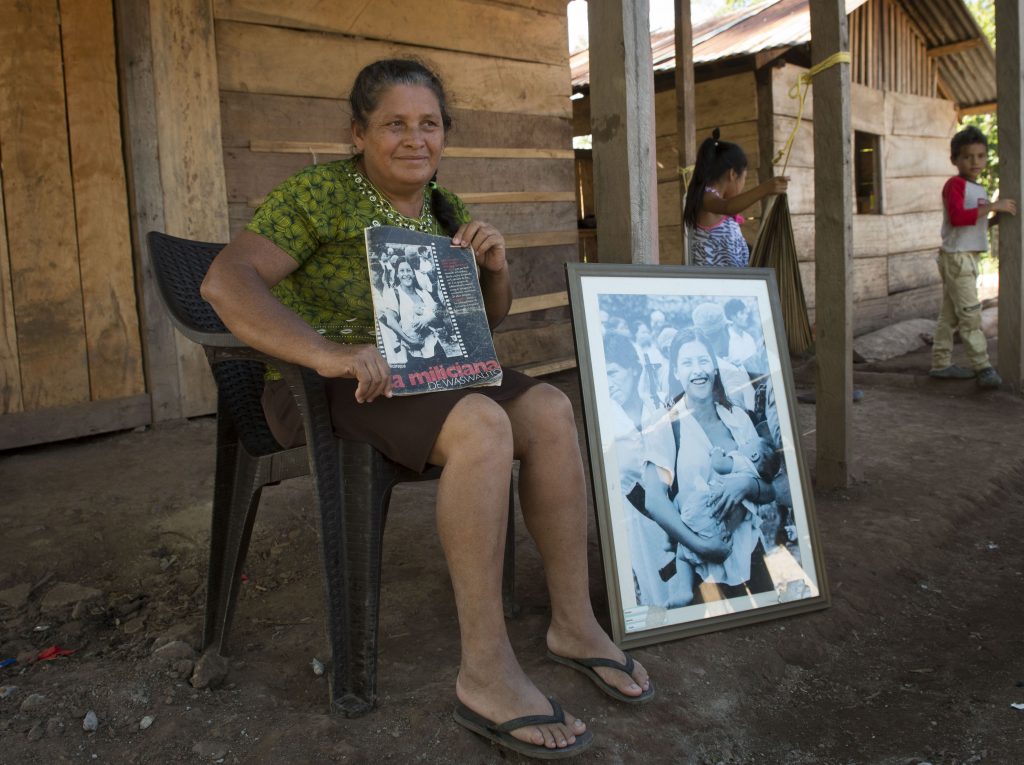 "They call me to preside over the event because I was president of the Sandinista Youth, but since I have him (his son) very young, I did not go up because it was also raining. That day they gave me the militancy of the Sandinista Front and five recognitions. When the act was over, I grabbed the crying baby and went to breastfeed. Then they told me that a boy was taking photos and a colleague named Acuña told me that he was going to lend me his AK because I was a militia," recalls López.
The boy who was taking photos is called Orlando Valenzuela and, according to magazine article, he had started his path in photography just four years before he took that portrait. He was in El Naranjo that morning because he was a reporter and photographer for Los Muchachos magazine, a publication of the Sandinista Youth 19 de Julio.
A smile that went around the world
The photo of the militia was not left alone in the magazine Los Muchachos, as her smile became the image of the World Solidarity Campaign with Nicaragua. That movement to support an impoverished country bloodied by a civil war was a success. Blanca, with her fluency in speaking, says the figure and laughs: "250 million dollars came in and I'm still on foot."
The number is correct. The magazine Magazine mentions that between 1985 and 1989 Nicaragua raised an average of 250 million dollars annually in aid of all kinds, personal and material. However, the young mother who appeared around the world in murals, exhibitions, magazines and posters with phrases in English, French, Portuguese did not benefit from it. In fact, his life outlook became increasingly bleak.
A month after Valenzuela photographed her, she was kidnapped by the Contra. After being released, she dedicated herself to work, then had to flee with her family due to a debt issue and has also seen five of the fifteen children she had die. In 2010, when journalists José Garth and Erika Gertsh visited her for the Magazine report, her helplessness was such that she did not even have a home of her own, but that was about to change.
An article read by the right person
Sergio Ríos, a regular reader of Magazine, read the report on La miliciana de Waswalito and, upon seeing Blanca's location, knew that she was close to the campus of MLR Forestal, the company he presides over. He immediately set out to search for her, find her, and help her.
"Everything started with the report. We sent to find her to see how we could help her, we offered her a job, we began to make arrangements to give her a piece of land and help her build her house. If Magazine hadn't produced that report, we wouldn't have noticed, "says Ríos.
Since then, López has been in various areas of the company such as nurseries and janitors. Ríos speaks admiringly about her. "She is very friendly and smiling, she has many interesting anecdotes and despite everything she has managed to get her children ahead, she even has one who is a journalist and that is the type of person whom one feels happy to help because he sees how his life and that of their children changes".
"Tell them we are alive!"
In the wooden house painted green is Blanca's son, who is the four-month-old baby that she carries in the photo. His name is José Antonio López Pérez and he is now 36 years old. He is a business administrator, a journalist and has the same broad smile as his mother.
"When he was already graduated, I told him to look for a job, but first look for the photo, to call someone, to say that we were alive because in a popular song they even thought we were dead," explains López.
That call that José Antonio did not want to make out of nerves led to the visit of Magazine journalists and even shook the memories of Fabián Medina, editor of the magazine, who told in that May 2010 issue that, while he was studying in Barcelona, Spain took a photo with the image of the militia captured in a gigantic mural.
Blanca talks non-stop and laughs frequently. From the moment of the photograph she has not forgotten anything, she even relates that the man who comes out behind her, back and wearing a cap, was killed in combat a month after the image was taken. Your good memory leaves room for one last question. "What made you smile so much in that instant?" She responds without hesitation: "They were making jokes to me because the AK was borrowed and I told them that yes, they were going to photograph me with a borrowed weapon when I was six in my house!"